Corporate
Make your next conference a SUCCESS with Vicki Sanderson!
Vicki delivers keynote presentations, management retreats, staff relations seminars and all day training work ships. Some of her topics include custom re service, change, leadership, and team building. Vicki present work ships for employees, support personnel, managers, CEO's and board of directors.
Vicki has spoken to thousands of business employees, staff and mangers and they all come away excited to be part of their company and ready to take steps to improve employee relations and the quality of their work.
The Challenge Series
"Together We Can Build a Better World"
No matter who we are or what we do, life is a continuous series of challenges. This dramatic series of presentations is designed to explore the skills needed to successfully face every challenge: provide quality service, respect others, believe in ourselves, work as a team, establish solid family relationships, and develop a positive attitude. By focusing upon these qualities, each audience member is motivated to face the challenges of building a better world!
If We're Going to Win This Race, We Need to Run in the Same Direction!
Challenge: Creating a Team for Success
Imagine if you will... people working together in a positive environment, sharing ideas, taking risks, supporting one another, resolving conflicts face to face, and treating others with dignity and respect. Does this sound like the Twilight Zone? If so, this information-packed, dynamic presentation is for you! Positive attitudes and a commitment to cooperation are essential to the success of any team -- at work or at home. Excellent keynote presentation.
Life Would Be Easy If It Weren't for Other People!

Challenge: Dealing With Difficult People
Life is full of difficult people, situations and demands, but we never quite learn to live with them. This fast-paced, entertaining session explores the differences between men and women, touches on marriage and parenting, and then moves into the workplace describing the whiner, tattler, gossiper, complainer, and the employee who says, "That's not my job". Though humorous and motivational, this presentation is full of information and techniques that can be applied immediately to home and work to help people build better relationships, open lines of communication, and enjoy life a little bit more.
Creating a Vision: A Goal for the Soul
Challenge: Building a Better Future
Unlike goals, a vision is immeasurable. A vision is what makes life worth living. A vision is what makes you feel GOOD about getting out of bed in the morning, doing your job with a sense of pride, and working with others in a spirit of camaraderie. A vision begins with a belief in yourself because confidence and self esteem give us permission to take risks, explore new territory and examine innovative ideas and procedures. This highly motivational presentation delivers cutting-edge information about the work force of the 90's, empowerment, total quality management, and the demands of a global market.
Learning to Say No in a World Full of Demands!
Challenge: Learning to Take Charge of Your Life and Still Be a Caring Person
Stress is often the outcome of too many demands coupled with our inability to utter a simple "no". This presentation attacks the problem of over-commitment at both ends, exploring the manipulative techniques that others use against us and the underlying factors that too often cause us to give in. In an entertaining and memorable presentation, skills necessary for open and honest communication will be discussed.
When I Said I Needed a Vacation, I Didn't Mean a Guilt Trip!
Challenge: Learning to Handle Guilt
With humor and a flair for drama, this presentation will recreate scenes from life where people are determined to get their own way, through manipulation. Spouses, teens, co-workers, friends, and even 2 year olds are often the agents who try to book us on the "guilt trip". Learn to say "No" and plan your own itinerary for life! Great for a luncheon or after-dinner speech.
Everybody Thinks They Can Do My Job, But Nobody Wants It!
Challenge: Successful, Effective Leadership
Successful managers must address the need for better customer service, the demand for higher quality and the cry for consistent leadership. This workshop is designed to empower business managers in the vital areas of building a successful team, conflict resolution, interpersonal communication skills, employee morale, a winning attitude, burnout, self esteem in the workplace and effective performance appraisals.
Gimme a Break!
Challenge: Balancing home, career, and YOU!
Men and women alike are juggling and struggling with the roles and demands of home and career. Most of us yearn for another few hours in each day, but would we use it to relax, vacation, or get a few needed hours of sleep? Probably not. This entertaining and informative presentation does not concentrate on the usual time management, stress or organizational skills approach but rather focuses on some bottom-line issues that keep us from getting the most out of life.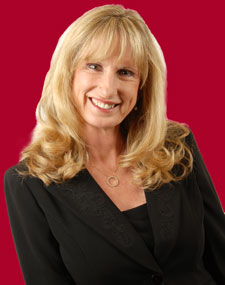 "On behalf of the Food and Nutrition Service, I wanted to express our appreciation to you for your excellent presentation at our Regional Procurement Conference. Your session was rated highly by the conference attendees, with such comments as "Great!", Excellent!", "Very entertaining", and "Wonderful".
Regional Director
United States Department of Agriculture
"Your seminar on "Dealing With Difficult People" was excellent. It was good and refreshing to see the Bureau working together to solve problems with clients and to get to know each other a little better. I know all of the attendees will be very happy and confident in recommending you to our meeting planners for their upcoming conventions and meetings."
Director of Convention Services
Dallas Convention & Visitors Bureau
"I want to thank you for making me look so good! After our Friday afternoon break-out session, myself, my boss and the president of OKCORP have been barraged by calls of thanks and requests for tapes.
Some of the comments from credit union staff were "Vicki spoke on family and professional issues so close to my heart," and "What an entertaining speaker...I didn't want her session to end"
Marketing Director
Oklahoma Corporate Credit Union (OKCORP)