About Vicki Sanderson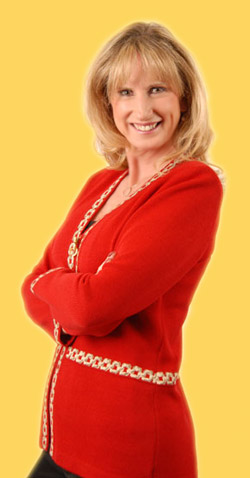 Vicki specializes in keynote addresses, customized workshops and seminars, in-service training, and after-dinner speaking. Her background as a business consultant, speech communications teacher, speaker, humorist, songwriter, author, and owner of her own company brings wisdom, experience, and knowledge to her presentations and the writing of the book "Life Would Be Easy If It Weren't For Other People."

Vicki has been drawn to the spotlight and the stage ever since she can remember. She was always writing and directing plays through elementary school and coercing all her friends to be in them. At home she would get the neighborhood kids together to audition for various variety shows under, of course, her direction! She was chosen in the 5th grade as the lead in her school Christmas play and thought she had arrived.

Vicki joined the speech and debate team in high school and received a speech communications scholarship while attending Stephen F. Austin State University. She obtained a B.A. in Speech Communications and Radio/TV. She remembers hearing her college roommate tell her mom, (after being asked what her roommate, Vicki wanted to do when she grew up) "I think she wants to be like Carol Brunette!" Vicki has always taken that as one of the best compliments she has ever received!

She went on to become a speech/debate and drama classroom teacher, leading her school's speech team to victory year after year. Vicki was the recipient of the Texas Congress of Parents and Teachers Honorary Life Membership Award for her outstanding and distinguished service to children. After 13 years in the classroom, she started her own speaking and consulting business. She has now been motivating and inspiring people nationwide for 20 years.


Vicki's enthusiasm, emphasis on content, and entertaining style have made her a successful speaker and motivator. Vicki's presentations have inspired audiences to work better together, take risks, build stronger relationships and take a closer look at themselves. Vicki touches the hearts and minds of every audience member and always leaves them wanting MORE!


Healthcare

Vicki conducts in-service training seminars to hospitals, healthcare organizations and national and state associations. She conducts workshops for maintenance, food service, nursing and administrators. Vicki's knowledge of inter-office staff relations can benefit physician's office personnel as well. She has conducted many all day hospital-sponsored events for the whole community.

Education

Vicki was a classroom speech and debate teacher for 12 years. She received the Texas Congress of Parents and Teachers Honorary Life Membership Award in recognition of her outstanding and distinguished service to children. She conducts highly motivated and content filled presentations and in-service programs to administrators, teachers and support staff. She also services the community by offering programs to parents and students. She has spoken to many districts and state administrators conferences including the National Secondary School Principals Association, The Texas Elementary Principals and Supervisors Association and The Texas Association of Secondary School Principals.

Business and Industry

Vicki delivers keynote presentations, management retreats, staff relations seminars and all day training workshops. Some of her topics include customer service, change, leadership and team building. Vicki presents workshops for employees, support personnel, managers, CEO's and boards of directors.

Vicki has spoken to thousands of business employees, staff and managers and they all come away excited to be part of their company and ready to take steps to improve employee relations and the quality of their work.